Learning content – didactic, motivating, individual
Learning content of sycat eLU
A digital learning management system ensures the ideal transfer of knowledge within the company. Whether this knowledge also reaches the minds of the learners effectively and, above all, sustainably depends largely on the learning content used.
Is the learning material didactically prepared in a meaningful way? Are the right learning objectives being set? Are the trainees optimally motivated and challenged, is learning fun at all?
Creating the best possible learning content for your business goals takes a lot of experience.
Fortunately, we own a lot of them!
We create your trainings, briefings or complete courses on request, precisely tailored to the needs of your company. Didactically valuable, motivating and sustainably successful.
Or you can help yourself to our extensive catalog of ready-made standard training courses. These online courses, developed by us or by well-known publishers, are created in the flexible SCORM format and are therefore fully usable on all common LMS.
With sycat eLU, learning success is guaranteed!
Creation of individual learning content
Learning-content as a service
Do you need online training tailored to your company's learning situation? Standard courses available on the market do not reflect true needs?
Then use our know-how in the creation of your
individual learning content!

Together with you, we analyze the existing learning potential, identify the specific learning objectives and develop the appropriate learning strategy.
Our online courses are of course not only
didactically sound
and in the
Corporate Design
of your company. They also possess a very special property for conveying knowledge optimally and, above all, sustainably: They make
Fun while learning!

In this way, we motivate employees throughout the entire knowledge transfer process to achieve their personal learning goals quickly and with pleasure.
The mix makes the difference!
For optimal knowledge transfer, we rely on diversity in the media and interactions used instead of boring text deserts: Images, videos, quizzes, drag & drop cloze texts, hotspot graphics and and and …
Because only variety and excitement in learning keeps the motivation curve sovereignly up over an entire online course.
Accessible & Multilingual
Accessibility is the magic word in optimal knowledge transfer.
We not only ensure the best possible presentation and interaction with our learning content. And on all end devices, whether mobile, desktop or on the stand display in the entrance or production area.
We also prevent language barriers to learning with multilingual learning content, especially when it comes to safety-related topics.
Editable, interchangeable, maximum flexibility.
Using international standards such as HTML5 and SCORM, our courses, instruction and web-based training run on all major learning platforms. This means that the interchangeability of learning content is always guaranteed, even between different locations or franchise partners.
One thing is clear: if the teaching material is boring, learning is no fun and progress is slow.
We bring fun and motivation to our courses with storytelling, game-based learning, and small rewards like badges and rankings.
Even "boring" product training or visitor briefings become an event and a real highlight through edutainment and gamification.
Remember: entertaining learning is successful learning.
Digitization of learning content
Give me the old stuff!
We digitize your existing training materials, such as PowerPoint slides, PDFs, Excel or Word files and transform them into modern web-based training.
Thus, we adapt existing know-how and create e-learnings for you in the flexible and editable SCORM format. Accessible, for all employees, at all times.
Individual learning content, characteristic design, maximum identification.
The learning content should not only meet your specific requirements, but also carry the self-image of your organization. In this way, you promote and strengthen identification with both learning and company goals, especially in the case of external company training or product training.
We make a point of reflecting this in the visual design of the courses, instructions and learning tracks.
Instruction and standard training in SCORM format
Learning content from the catalog
With the digital learnings from our catalog, you can get started immediately with training and instruction in the company.
The courses we produce ourselves are
Standard training courses
and cover workplace, occupational safety, personal protective equipment and other specialized topics.
In addition, thanks to our close cooperation with well-known specialist publishers, we can also offer you a wide range of
professional instruction and briefings
directly offer.
Have a browse through our portfolio!
Standard learning modules from sycat eLU
Show all
Structural fire protection
Fire protection for plant engineering
Electrical plant and equipment
First aid
Fundamentals of hazardous substances
Ladders and steps
Trip-slide-fall
Transport and storage work
Show all
Fit and healthy at the screen
Healthy work in the HomeOffice
Personal protective equipment
Show all
Eye protection
Foot and knee protection
Hearing protection
Skin protection
Head protection
Show all
Coronavirus
Forklift
Hygiene in the company
License model for learning modules from sycat-eLU
The conditions of our learning modules are simply favorable: We license according to the number of users as a flat rate. No matter how many times the employees then call up the content.
The packages are regularly further optimized and updated by us. Please note, however, that we cannot provide any legal warranty for the accuracy of the SCORM packages.
Up to 3,000 users
550,- € per learning module one-time
plus 110,- € per learning module per year
From 3,000 to 10,000 users
990,- € per learning module one-time
plus 198,- € per learning module per year
Individual licenses
For very large user groups
When ordering a complete package
Learning modules from publishing partners
Job-related instructions A-K
Show all
Geriatric nurse – Nurse
Optician
Field representative
Structural draughtsman
Office workstations
Dispatcher Temporary Work
Electrician – Electrical technician
Educator (kindergarten)
Specialist salesperson in the food trade (bakery, confectionery)
Salesperson in the food trade (butchery)
Hairdresser / Barber
Forklift driver
Gas and water fitter
Basic instruction
Basic instruction (Polish language)
Heating, ventilation and plumbing technician
Car mechanic
Cook – kitchen staff
Driver
Job-related instructions M-Z
Show all
Painter
Machine operator (press)
Masseur
Butcher (cutting)
Call center employee
Garbage collector
Offset printer
Parquet layer
Press setter
Cleaner (Building cleaning employee)
Control cabinet wiring technician
Carpenter – joiner
Road maintenance worker (summer service)
Animal keeper (game enclosure)
Process mechanic for plastics (plastics molder)
Surveying technician
Dental technician
Machinist
Two-wheel mechanic
Show all
The correct use of (protective) gloves
Hand hygiene
Skin protection in care
Cleaning work with risk of infection in medical areas
Back strain in nursing
Handling of hazardous substances in facilities for human medical care
Behavior in case of needlestick injuries
Show all
Alcohol in the workplace
Execution of work by outsiders (basis: temporary workers)
Execution of work by external parties (basis: contract for work and services)
Fire protection in the company – prevention
Fire protection in the company – Emergency measures
Fire protection in the company – handling fire extinguishers
Use of ladders and steps
First aid in the company – prevention and emergency measures
Basic instruction for teenagers
Skin protection
Pandemic planning
Personal protective equipment – Eye protection
Personal protective equipment – Respiratory protection (filtering devices)
Personal protective equipment – respiratory protection (insulating equipment)
Personal protective equipment – Foot protection
Personal protective equipment – Hearing protection
Personal protective equipment – Protective gloves
Participation in road traffic
Handling hazardous substances
Instruction in accordance with the Maternity Protection Act (MuSchG)
Prevention of trip, slip and fall accidents (SRS)
Avoidance of mental stress at work (under- and overstrain)
Show all
Slinging loads
Work on buried gas pipelines (unfilled gas pipelines)
Work on pylons and overhead lines
Work on melting furnaces (induction furnaces, non-ferrous metals)
Work on construction sites
Work on construction sites (Polish language)
Working on ladders and scaffolds
Work in the bank room (carpentry)
Working in the kindergarten / serving food
Working in the noise area / activities with noise
Work in the test field (up to max. 1000 V)
Working in walk-in cold rooms
Work in the kitchen (general)
Working in confined spaces (general)
Working in confined spaces (welding)
Work in track systems
Working with high pressure cleaners
Working with mortar conveyors and mortar spraying machines
Replacement of gas cylinders on LPG forklifts
Surface coating
Feeding waste compactors and press containers
Refueling of construction site vehicles
Performing demolition work with machine
Performing demolition work by hand
Driving into silo cells
Electric welding (arc welding)
Damp work
Guiding overhead cranes
Show all
Gas welding – brazing and soldering
Woody plant care
Green care
Lifting and carrying loads
Hygiene management: acceptance of food
Hygiene management: serving food
Hygiene management: storing beverages
Hygiene management: storing food
Hygiene management: personnel hygiene
Hygiene management: handling waste
Internal transport (manual transport)
Coupling vehicles
Charging battery-powered industrial trucks
Manual positioning and moving of patients
Knife change on cutting machines
Assembly work on the roof / collector installation
Breakdown and accident assistance
Set up of plastic injection molding machines
Troubleshooting woodworking machines
Blasting work
Transportation of liquid gas cylinders (small quantities)
Handling of cooling lubricants and monitoring
Handling loading bridges
Food handling
Handling of solvent-based adhesives (small quantities)
Handling of rolling containers (retail)
Dealing with means of payment (retail)
Prices for learning modules from publishing partners
We see the procurement of learning modules from our publishing partners as a service. You pay only the usual market price. Just contact us!
How great is the potential for digital learning in your company? Do a quick analysishere !
Continuing education, customer training, visitor instruction – What possibilities and opportunities does e-learning open up in your company? Find out here in a short and free online analysis!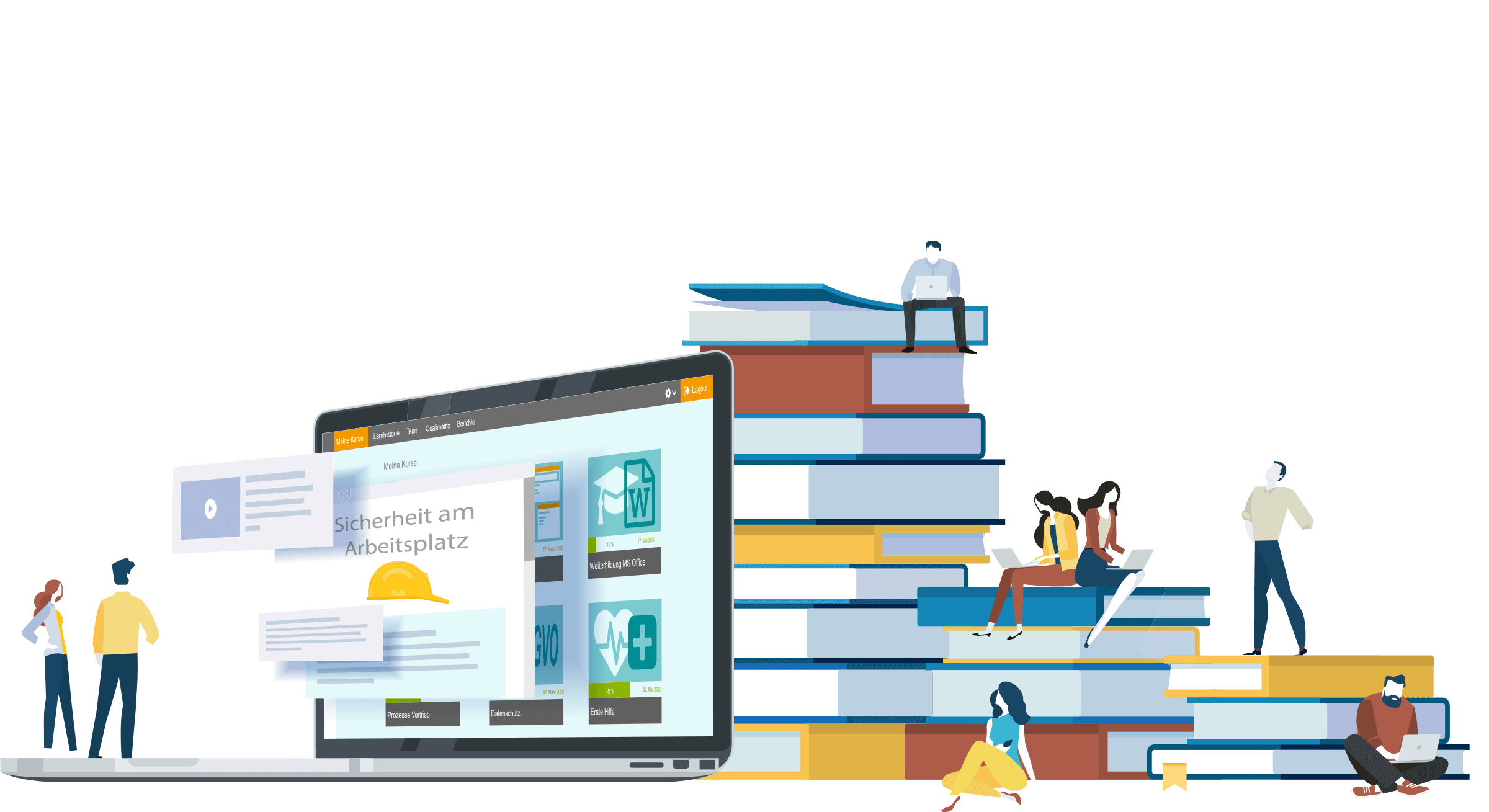 Our services for your success
This is what you get with sycat eLU
We provide competent advice on all questions concerning configuration, integration and the potential of your learning management system.
Book standard training and instruction directly from the catalog or let us develop your individual learning content.
Maximum accessibility – maximum data protection. Most certainly with our certified cloud solution according to ISO 27001.
We hold extensive introductory workshops and train the responsible persons and trainers. Online or presence.
We support you with the integration into the IT as well as the smooth operation. Fast, competent, personal!
Learning management as part of the integrated management system. Integrate e-learning into your process landscape.
Communicate knowledge quickly and safely –
guarantee sustainable learning success –
increase long-term efficiency in the company