A skills matrix (or competency matrix) is basically a table in which you can see at a glance all of an employee's currently existing or non-existing skills and qualifications. It is a very useful tool for systematic personnel development, i.e. the targeted development of competencies to achieve specific company goals.
Of course, after a certain number of employees, a "hand-held" Excel spreadsheet is no longer helpful. The effort required for manual maintenance is no longer in proportion to the benefit, and targeted evaluation is also very cumbersome.
Therefore, a modern qualification matrix is part of the digital management system and closely coupled with the organizational structure or human resources management.
What are the tasks of a qualification matrix?
As part of the management system, it is one of many tools for achieving the company's goals.
It is actually indispensable in personnel planning and development.
It builds the competencies of individual employees and compares them to the required skills of a specific job. This makes it easy to fill this position with the most capable employees. This is extremely helpful, especially when filling substitute positions or during restructuring.
Competence gaps are now quickly identified and can be eliminated through targeted learning and support measures.
The most essential tasks of a qualification matrix are thus:
Get an overview of the current skills and competencies of each employee

Existing competencies
Soon to expire competencies
Missing competences

Ability to compare with the required skills and competencies of a specific job or role
Enable targeted allocation of required qualification or training measures for individual employees/teams/departments
To show the progress of the corresponding qualification measures
Promotion and increase of the level of knowledge in the company
What exactly are competencies?
When people talk about competencies, they usually mean technical competencies, also called hardskills. It refers to the ability of employees to handle specific tasks and issues independently and on their own responsibility.
However, the social competencies, the soft skills, are also important for good teamwork. However, these are not easily quantified and therefore fall more into the realm of managerial assessment.
The hard skills, on the other hand, can certainly be demonstrated and evaluated, for example by acquiring a qualification through completion of an employee training course. Existing skills and acquired experience are also assessed and graded.
The professional competence of an employee is therefore the sum of proven qualifications, learned skills and the experience gained.
Who works with a qualification matrix?
Since it is particularly used in personnel planning and development, the personnel department or human resource management naturally makes use of it. Personnel plans and substitutions as well as job advertisements can be created in a targeted and partly automated manner.
However, they can be used even more effectively in modern digital management, which is characterized by a high degree of networking.
For example, team leaders in a wide variety of departments can map and target the skill level of their team members to specific projects.
Knowing and building up the level of knowledge in the company naturally also plays a major role in the management of a company and its strategic orientation.
To comply with ISO EN DIN 9001:2015 quality management, organizations must be able to determine and control their level of knowledge. The standard requires this in order to ensure and continuously improve the quality of products and services. These efforts must be documented. The qualification matrix is therefore also part of the integrated management system and the continuous improvement process.
Do you need special software for a competence matrix?
The answer is yes.
For a small company or organization, a simple Excel spreadsheet or RACI chart (Roles and Responsibilites Matrix), such as you may be familiar with from a project plan, will suffice.
However, with such "semi-professional" solutions, you quickly reach the limits with a higher number of employees. These tables are firstly too inflexible in the evaluation. Because you can't necessarily do more than sort the columns alphabetically or numerically. The bigger disadvantage, however, is the lack of (or very difficult to implement) automatic updating. Every new employee or employee who has left the company, as well as every changed competence, must be maintained manually. In addition, simultaneous use by multiple users is cumbersome or simply not possible.
So, the competence matrix should better be a part of the existing software that is used in HR management or HR administration anyway. It is even better if it is also networked with other management systems, such as learning and knowledge management.
How is a qualification matrix structured?
Of course, the structure depends on the specific requirements and is therefore certainly somewhat different in each company. However, it is fundamentally similar and is also adapted and refined to meet specific needs.
In principle, you first record all employees. The employees should of course still be able to be grouped and/or sorted into larger units, such as departments, teams or functions. They form the rows of the matrix.
The individual competences are entered in the columns. These can also be grouped or sorted according to, for example, professional, methodological and personal competencies. Of course, you can also make other subdivisions, such as IT skills, logistics, languages, etc.
The proven skills of each employee are then placed in the appropriate column. The evaluation can be made by numbers or color code, which resolves the competencies in the best possible way. The colorizations make it possible to see the qualification status at a glance, since pure numerical values cannot be captured pictorially.
The exact fineness of the gradations (numerical values or colors) depends on the specific application. Some competencies require gradations of up to nine levels, other areas perhaps four or five.
An optional second line allows you to enter the skill level required for the job.
Of course, color codes and numeric data can also be combined in one cell. This allows much more information to be mapped into the matrix. This can be a qualification that is soon to expire or measures that have taken place, such as training.
Once created, competencies and gaps can now be identified at a glance and the appropriate measures assigned.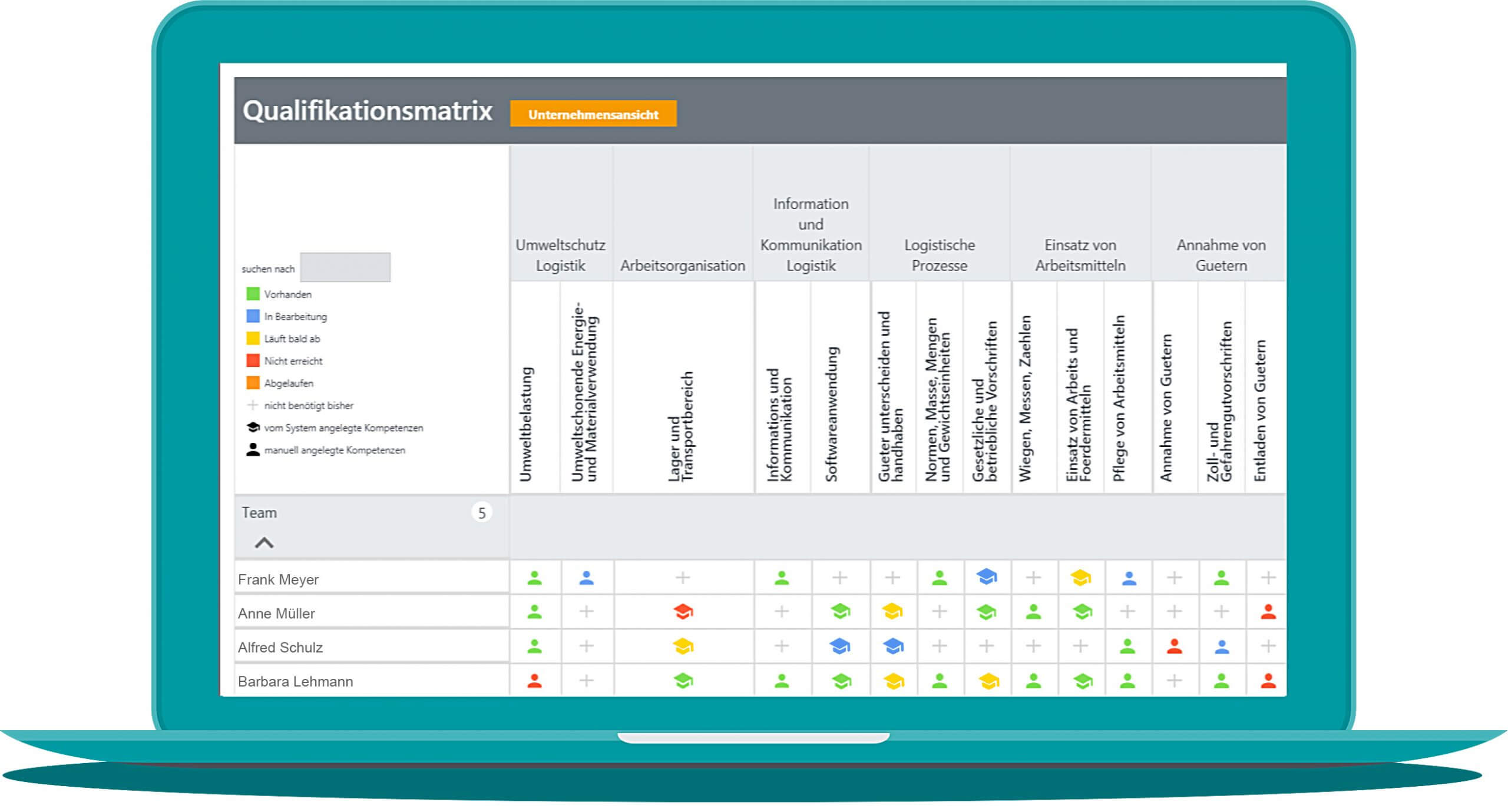 In total, the following steps are to be completed:
Creating the functions (lines)

Departments
Teams
Jobs
Employees

Creating the competences (columns)

Super categories of competences
The respective qualifications

Determine TARGET values
Determine actual values
Comparison of the TARGET and ACTUAL values
Develop measures, monitor effect
How do you evaluate a competency?
As we have seen, a professional competence of an employee is the sum of proven qualification, learned skills and the gained experience.
To make sense of a skills matrix, these skills must be assessed similarly and comprehensibly throughout the organization. It is therefore necessary to clarify in advance which gradations make sense. Are school grades from 1 to 5 or even just three levels enough? Or do the competencies need to be broken down even more finely? In addition, guidelines should be developed so that there are objective criteria in the personal evaluation of an employee by the supervisor or team leader.
The evaluation of an acquired qualification certainly causes the fewest problems, since documented proof exists here. However, the assessment of skills acquired in a different way and the experience gained is to a certain extent also a matter of judgement. Therefore, one also agrees on the corresponding criteria in an introductory workshop beforehand.
The qualification matrix as part of the digital management system
In this sense, it is of course expedient to mark the verifiable qualifications extra as such. Because then it is also possible to link the qualification matrix directly to a learning management system in the sense of the digital management system.
On the one hand, one distinguishes at a glance a proven (objective) competence from a (partly subjective) assessment. On the other hand, competencies acquired in this way are then automatically included in the qualification matrix, for example a completed safety training course.
Measures can also be assigned directly in the matrix, such as online training. The corresponding employee will then receive the request and access to the training via email. This must be completed within a specified period in the learning management system. After proof of understanding, the competence is automatically updated in the matrix.
But other areas in the company are also networked in the management system. For example, in the area of document control, new work or process instructions are marked as "requiring instruction". The responsible party places appropriate training for affected employees and departments in the learning management system. Whether and when the employees have also successfully completed this training can be seen in a highly topical manner in the qualification matrix.
If you are more interested in digital management systems, you should visit the following page. There you will learn how different management areas, such as quality, document, learning and action management, can be brought together with a central software:
Incidentally, the link between the different areas is the business processes. Find out here exactly what business processes are, how to model them, and what benefits Business Process Management (BPM) offers:
What else belongs to a learning management system? How is it structured and which functionalities are important? Here's a little tour of an LMS:
Still curious? Then contact us, we will be happy to answer your questions!