Develop skills and competencies in a targeted manner
The qualification matrix of sycat eLU
Do you know it? The competencies and qualifications of all employees slumber blissfully in countless tables that lie in folders of some department or another. Not to mention timeliness and completeness …
That's over now! With the qualification matrix of sycat eLU you can see the competence level of each employee at a glance. It is completely irrelevant whether a qualification was acquired via the learning platform or another route.
Qualification status in the company at a glance
Competence management sounds quite simple to the specialists from HR. In fact, it is usually very complicated and time-consuming for many team leaders or supervisors in normal day-to-day business to gather the necessary information about the qualification level of individual employees.
The qualification matrix of sycat eLU offers all executives a very comfortable and clear access to the competence profiles of your company. This makes it really easy to plan, manage and control the qualifications and skills of your employees. Incidentally, it does not matter whether the competencies were acquired in the system or demonstrated externally and, of course, conform to the documentation requirements of ISO 9001.
Develop skills and competencies
Synchronize your HR system with sycat eLU to run professional knowledge and competence management company-wide.
Use different rating scales and user-defined competency fields and types to create meaningful competency profiles of your workforce. Develop targeted skills for individual employees by linking training plans and courses to profiles.
Establish relationships between course completions and competencies. Thus, successful completion of training automatically leads to the acquisition of higher-level skills, which are displayed in the system. On the other hand, in the case of time-limited certifications, such as company first aiders, refresher courses are automatically sent out to the relevant employees to prevent loss of competence.
Set goals with personal learning plans
Promote the development of your employees in a targeted manner by creating individual learning plans together with them and setting specific learning goals. Keep track of your teams' or departments' learning progress and manage the training process with confirmation and approval workflows, comment boxes, and personal notifications.
This is how you successfully and sustainably build up knowledge and competence in the company.
Additional functions of sycat eLU
Connect online and offline with a single application. Organize face-to-face events, events and blended learning with the seminar manager.
Simply book standard training courses and courses from well-known publishers in SCORM format or use our service to create individual learning content.
Create an online course from existing PowerPoint slides in minutes? With tests and certificate?
It's child's play with the integrated authoring tool from sycat eLU !
How great is the potential for digital learning in your company? Do a quick analysis here!
Further training, customer training, visitor instruction – what possibilities and opportunities does e-learning open up in your company? Find out here in a short and free online analysis!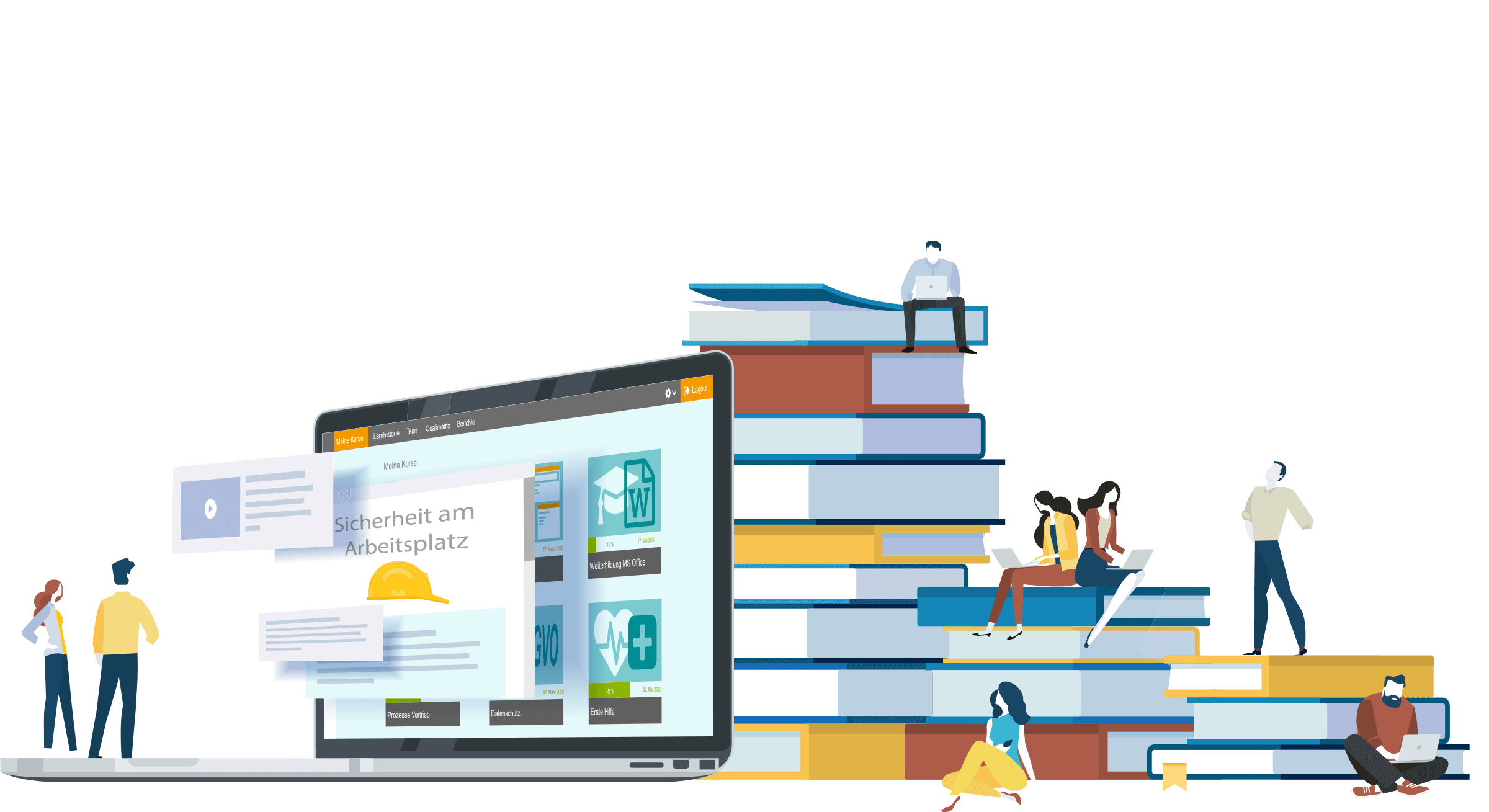 Our services for your success
That's what you get with sycat eLU
We advise you competently on all questions relating to the configuration, integration and potential of your learning management system.
Book standard training courses and instructions directly from the catalog or let us develop your individual learning content.
Maximum accessibility – maximum data protection. Certainly with our certified cloud solution according to ISO 27001.
We hold extensive introductory workshops and train those responsible and trainers. Online or presence.
We support you with the integration into the IT as well as with the smooth operation. Fast, competent, personal!
Learning management as part of the integrated management system. Integrate e-learning into your process landscape.
Communicate knowledge quickly and safely –
guarantee sustainable learning success –
increase long-term efficiency in the company