E-learning for all employees – anytime, anywhere
sycat eLU – this is more than just a quick-to-use learning platform with an enormous range of functions, with which you can digitally carry out the instructions, further training and blended learning of all employees.
Because in addition, there is also the appropriate learning content, extensive services as well as hosting and consulting.
Thus, sycat eLU becomes an indispensable part of modern management:
Qualifications in HR, occupational health and safety measures in HSE, compliance training, contractor training, product and customer training, business process training or voluntary training.
E-learning independent of place and time
Reach all employees in the company with individual e-learning, instruction or training wherever they are.
Give your employees the opportunity to complete their personal tasks and training when and where it suits them best. Strengthen independent work and confidence in your own abilities.
Whether on the desktop computer in the office, on the laptop in the home office, on the tablet in the ICE or on the stand display in the production area – with sycat eLU you always convey knowledge and competencies optimally and securely.
Quickly ready for use and flexible
The learning management system sycat eLU is a standard software. The most important functions are preconfigured and included in the LMS, e.g. authoring tool, multilingualism, target group definition, reports, competence management, audit-proof tests and verifications, user dashboard or HR import.
Optional, but just as quickly ready for use, are modules such as the seminar manager or the qualification matrix. Nevertheless, the learning platform offers enough flexibility to fully adapt to the specific needs of your organization.
So you can get started with enterprise-wide digital learning and instruction shortly after installation. If you use sycat eLU in the cloud, everything goes even a bit faster.
Conveying knowledge didactically in the best possible way
Learning activities from sycat eLU
Learner-centric dashboards
Offer your learners customized courses and training on their dashboards that they can take voluntarily.
Integrate MS Teams, Zoom, WebEx or GoToMeeting directly into sycat eLU courses and dashboards and conduct conferences with learners.
Set individual learning goals, deadlines, and prioritization for your employees. Monitor and manage learning progress with workflows, comments, and notifications.
Learners Helping Learners. With forum types such as "Standard", "News" or "Question-Answer", learners can exchange information and support each other.
Get the information you need about courses and training in real time, for example, to customize the quality of training or the difficulty level of e-learning.
Compile background information on courses and subject areas in a wiki to create comprehensive and valuable knowledge libraries.
Store customizable certificates and attendance confirmations that are automatically distributed to learners in a personalized manner when they reach set goals.
Motivate learners with virtual awards to reward their learning progress and spur them on to further achievements.
Give team leaders the ability to monitor and target their teams' activities. Get one-click access to learning plans, profiles, course bookings, and learning progress.
Create meaningful and customized reports using extensive filtering and exporting options.
Additional functions of sycat eLU
No more competency management using Excel spreadsheets! With the qualification matrix in sycat eLU , you can see the level of competence of each individual employee at a glance. Of course, in accordance with the ISO 9001:2015 standard.
Mehr erfahren
Create an online course from existing PowerPoint slides in minutes? With tests and certificate?
It's child's play with the integrated authoring tool from sycat eLU !
Mehr erfahren
Successfully manage all face-to-face events and blended learning. From the organization of the participants and rooms, to the implementation of the training courses and seminars, to the evaluation and audit-proof reports.
Mehr erfahren
How great is the potential for digital learning in your company? Do a quick analysis here!
Further training, customer training, visitor instruction – what possibilities and opportunities does e-learning open up in your company? Find out here in a short and free online analysis!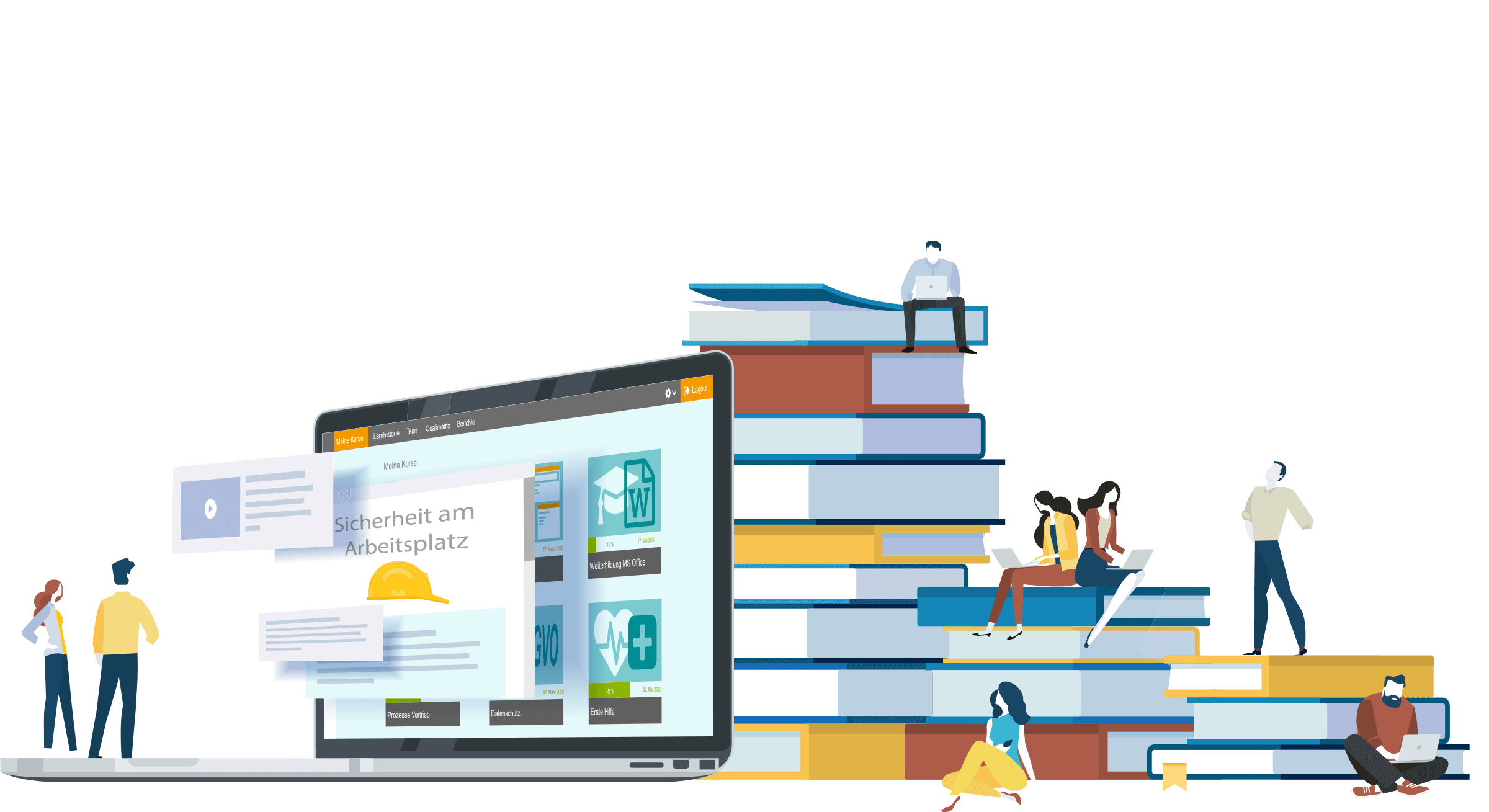 Our services for your success
That's what you get with sycat eLU
We advise you competently on all questions relating to the configuration, integration and potential of your learning management system.
Book standard training courses and instructions directly from the catalog or let us develop your individual learning content.
Maximum accessibility – maximum data protection. Certainly with our certified cloud solution according to ISO 27001.
We hold extensive introductory workshops and train those responsible and trainers. Online or presence.
We support you with the integration into the IT as well as with the smooth operation. Fast, competent, personal!
Learning management as part of the integrated management system. Integrate e-learning into your process landscape.
Communicate knowledge quickly and safely –
guarantee sustainable learning success –
increase long-term efficiency in the company