Verifiable, documented and legally compliant instruction
Instructions with sycat eLU
Health and safety in the workplace is assigned the highest priority. And that's a good thing. Instruction in occupational safety, health, environmental protection and, more recently, data protection are legally mandatory and are subject to severe sanctions in the event of violations. Of course, the organization, implementation and documentation meant a lot of effort.
Using an online learning platform like sycat eLU, on the other hand, saves an enormous amount of time, money and nerves!
Because you manage the entire process digitally with a central application:
From the planning of the instructions, the creation of the lists with the participants, the implementation purely digitally or as a face-to-face event, the comprehension checks and success certificates to the audit-proof documentation and archiving of all results.
Manage mandatory briefings
Whether you select ready-made standard instructions from our catalog, create trainings and tests yourself with the authoring tool or conduct classroom events of any size with the seminar manager – organizing, evaluating and documenting instructions is really easy with sycat eLU. Compile curricula and target groups, define the structure of certifications and recurrent training, set expiration dates and recurrence intervals.
Of course, you automatically document all the instruction carried out for each individual internal or external employee, in a legally impeccable and audit-proof manner.
And with integrated team management, all trainers and managers have their teams and individual employees in view and can instruct, train and promote them individually.
Audit proof tests
Create interactive training quickly and easily from existing training materials or documents, or choose from an extensive catalog of standard training courses. Add audit-proof tests and comprehension checks to briefings as mandatory final exams. Use multiple choice answers, choice questions, short answers, and scorable free text to create random question pools.
The evaluation is tamper-proof and takes place exclusively on the server.
How great is the potential for digital learning in your company? Do a quick analysis here!
Further training, customer training, visitor instruction – what possibilities and opportunities does e-learning open up in your company? Find out here in a short and free online analysis!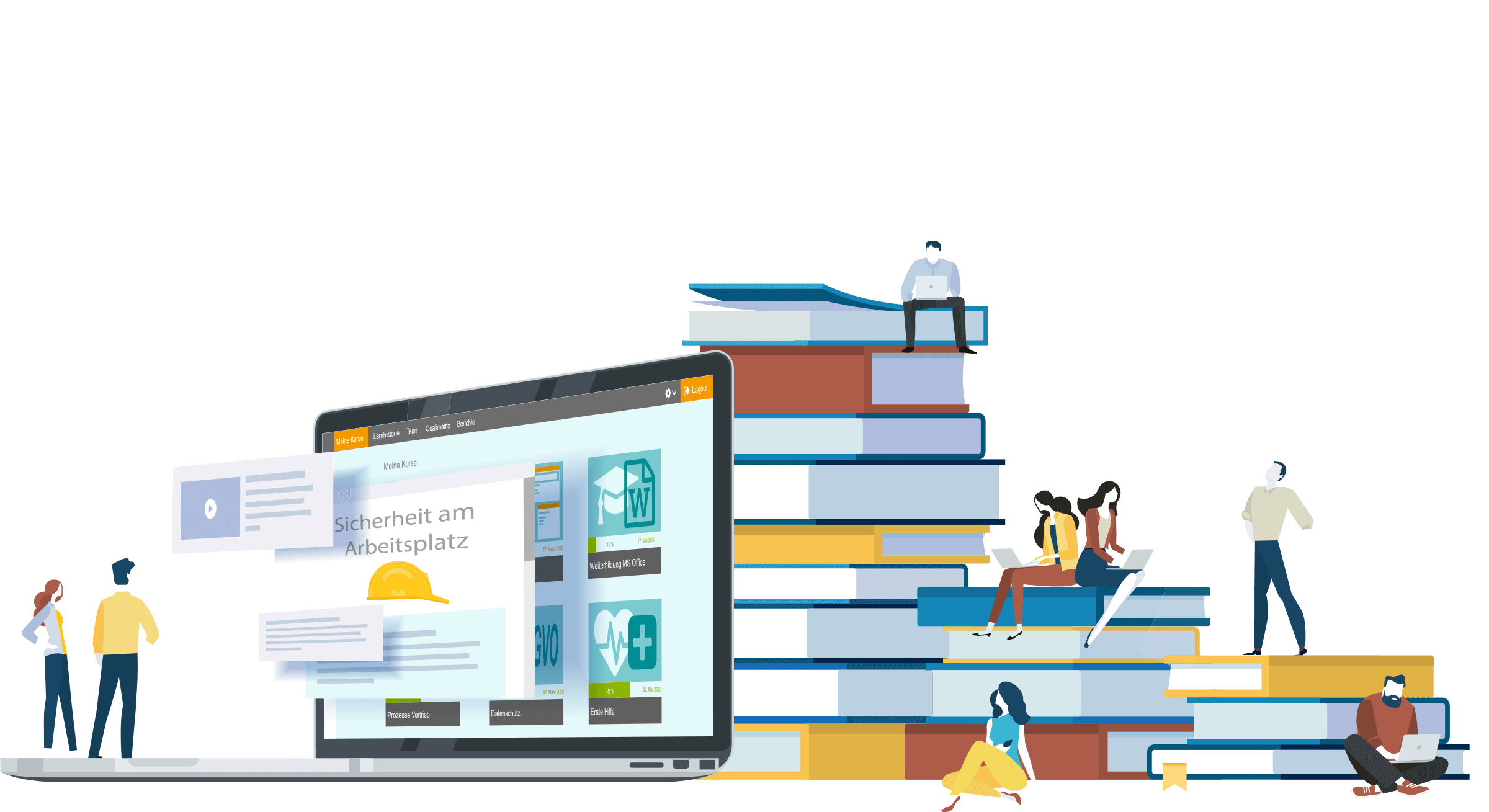 Our services for your success
That's what you get with sycat eLU
We provide competent advice on all questions concerning configuration, integration and the potential of your learning management system.
Book standard training courses and instructions directly from the catalog or let us develop your individual learning content.
Maximum accessibility – maximum data protection. Certainly with our certified cloud solution according to ISO 27001.
We hold extensive introductory workshops and train those responsible and trainers. Online or presence.
We support you with the integration into the IT as well as with the smooth operation. Fast, competent, personal!
Learning management as part of the integrated management system. Integrate e-learning into your process landscape.
Communicate knowledge quickly and safely –
guarantee sustainable learning success –
increase long-term efficiency in the company