Create your own learning content quickly and easily
The sycat eLU authoring tool
The range of standard training courses does not meet your needs?
Then why not make your own e-learnings! With sycat eLU 's flexible and intuitive authoring tool, you can quickly and easily create individual learning content, mandatory training or product training.
To create your interactive courses or blended learning, you can use everything you have: existing PowerPoint slides, videos, images, Word documents, PDFs, Excel sheets, and and and …
This way, you can create exactly the learning content you need in no time at all.
Simple and intuitive to use
Imparting knowledge does not have to be difficult and learning does not have to be boring. The integrated authoring tool of sycat eLU supports many didactically valuable methods and learning content, so that you can create your very own individual employee training courses, trainings or complete courses in no time at all.
Why not create videos that are enriched with intermediate questions and comprehension tests? Or interactive hotspot images, with which you can train machines, premises and access routes or user interfaces of new software in no time at all.
Digitize existing teaching material and PowerPoint presentations quickly and easily directly with sycat eLU.
Web Based Trainings – Learning Modules
People learn better and faster when they feel positive emotions in the process. The mix of texts, images, videos, as well as quizzes and smaller interactive games makes our learning modules varied and interesting. This makes learning fun for employees of all ages.
Edutainment and educational games
Learning through play is the formula for sustainable learning success. Game-based learning and edutainment, as well as small rewards such as awards and badges, measurably boost motivation. This makes learning fun, attention stays constantly up and the result will exceed expectations.
Your learning opportunities are guaranteed not to be boring!
Augmented reality
Augmented" reality is the interface between the real world and digital learning content. Using special markers, learners can open them directly at the "crime scene" in their mobile device. Whether it's instructions for changing the toner on the copier or safety instructions in various languages directly on the machine.
Motivation through badges and certificates
Nothing raises motivation more than praise for a job well done. That's why why you reward your employees' learning progress with automatically generated awards. And the tamper-proof certificates for courses passed also look good printed out on a resume.
Further functions of sycat eLU
No more competence management via Excel spreadsheet! With the qualification matrix in sycat eLU you can see the competence level of each employee at a glance. Naturally standard-compliant to ISO 9001:2015.
Simply book standard training courses and courses from well-known publishers in SCORM format or use our service to create individual learning content.
Connect online and offline with a single application. Organize face-to-face events, events and blended learning with the seminar manager.
How great is the potential for digital learning in your company? Do a quick analysis here!
Further training, customer training, visitor instruction – what possibilities and opportunities does e-learning open up in your company? Find out here in a short and free online analysis!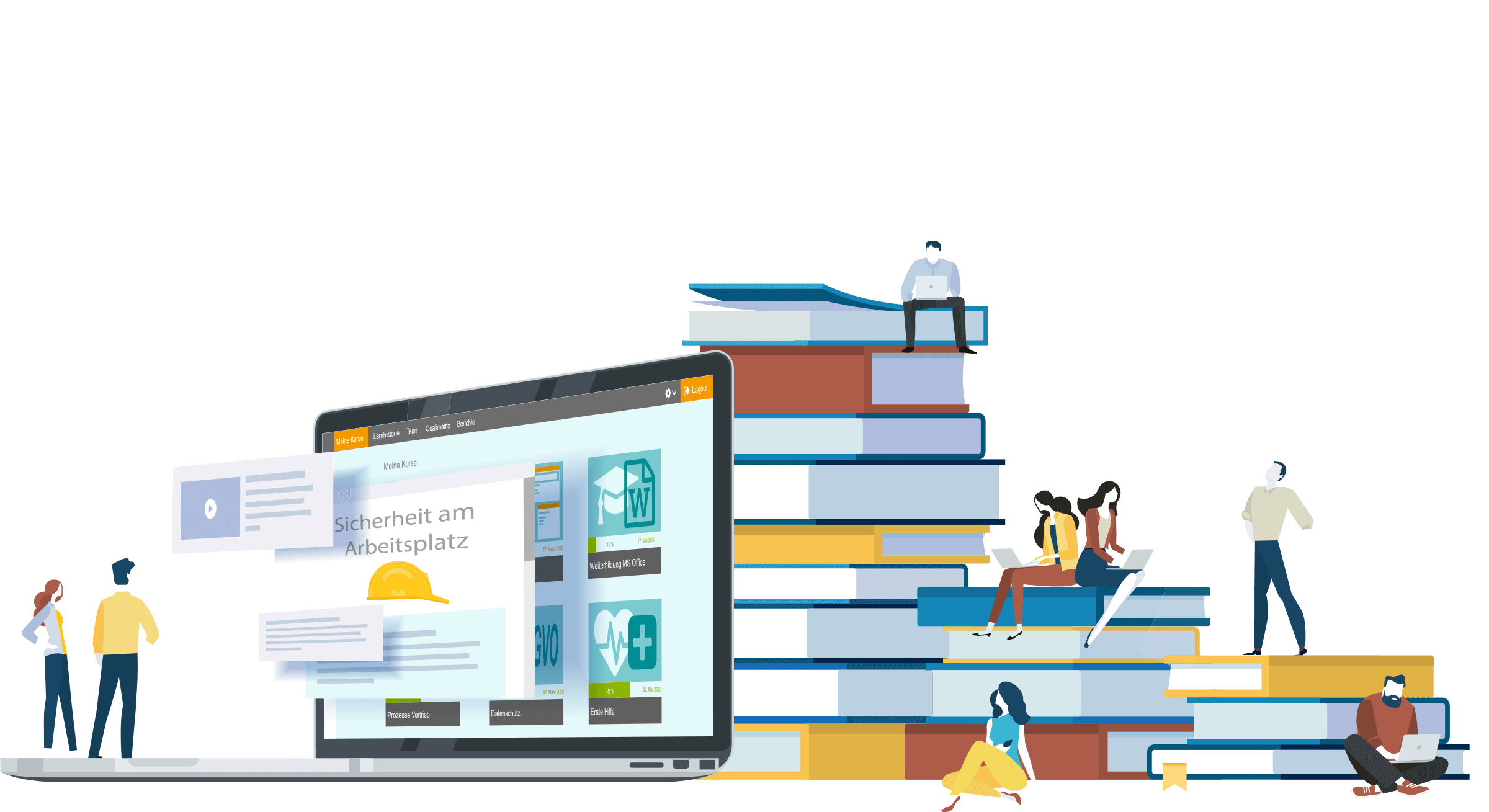 Our services for your success
That's what you get with sycat eLU
We advise you competently on all questions relating to the configuration, integration and potential of your learning management system.
Book standard training courses and instructions directly from the catalog or let us develop your individual learning content.
Maximum accessibility – maximum data protection. Certainly with our certified cloud solution according to ISO 27001.
We hold extensive introductory workshops and train those responsible and trainers. Online or presence.
We support you with the integration into the IT as well as with the smooth operation. Fast, competent, personal!
Learning management as part of the integrated management system. Integrate e-learning into your process landscape.
Communicate knowledge quickly and safely –
guarantee sustainable learning success –
increase long-term efficiency in the company