Our solutions for rail traffic and railway technology
When it comes to quality and safety in rail transport, the industry is heavily regulated by national and European laws and standards.
Changes and new versions, such as the European Railway Safety Directive VO (EU) 2016/798 and the new ECM Implementing Regulation 2019/779, lead to an increased need for training and instruction for the thousands of employees in the entire industry.
In cooperation with the TÜV Rheinland and the ODEG GmbH we offer the operators of railways and railway infrastructure, quality and safety officers as well as manufacturers and maintainers of rail vehicles and railway infrastructure our own and strong e-learning solution with the aim of knowledge sharing and Promoting competence development in railway technology too massively in order to meet the highest quality and safety standards at all times.
Railway-specific learning content as a service
We make content fit for the internet! We digitize existing teaching material and use it to create didactically high-quality online courses in the flexible SCORM format, which can be used on all common learning platforms.
Of course, we can also produce completely new individual learning content on request, in close cooperation with those responsible in the company.
Exchange platform for learning content
Benefit from the knowledge of others and in return let others benefit from your know-how!
All participants can exchange railway-related learning content via an exchange platform.
You can also easily book standard learning content, such as occupational safety training, first aid, fire protection and much more, via an extensive catalogue.
Learning platform on premise or in the cloud
sycat eLU is a learning management system that can be used quickly and is preconfigured to your needs, with which you can train, instruct and qualify all employees digitally, whether on the desktop, mobile, in the home office or on the stand display in production.
If you wish, we can host your personal sycat eLU in the cloud, of course securely and certified according to DIN ISO/IEC 27001.
However, sycat eLU is much more than just a learning platform: In connection with the sycat IMS portal, e-learning fits into the world of the integrated management system. Information, knowledge, processes, employees – central and addressed in one system.
Digital route information
As a pilot project with ODEG GmbH , currently in the beta phase, we will soon be offering all interested railway companies the digital route information service via their sycat eLU .
A large selection of railway routes, with replacement timetables, jump markers, additional information and attached documents, can be completely virtually navigated in an intuitive user interface.
Definitely more quality on the rails – sycat eLU
Further functions of sycat eLU
No more competence management via Excel spreadsheet! With the qualification matrix in sycat eLU you can see the competence level of each employee at a glance. Naturally standard-compliant to ISO 9001:2015.
Mehr erfahren
Create an online course from existing PowerPoint slides in minutes? With tests and certificate?
With the integrated authoring tool from sycat eLU a piece of cake!
Mehr erfahren
Successfully manage all face-to-face events and blended learning. From the organization of the participants and rooms, to the implementation of the training courses and seminars, to the evaluation and audit-proof reports.
Mehr erfahren
How great is the potential for digital learning in your company? Do a quick analysis here!
Further training, customer training, visitor instruction – what possibilities and opportunities does e-learning open up in your company? Find out here in a short and free online analysis!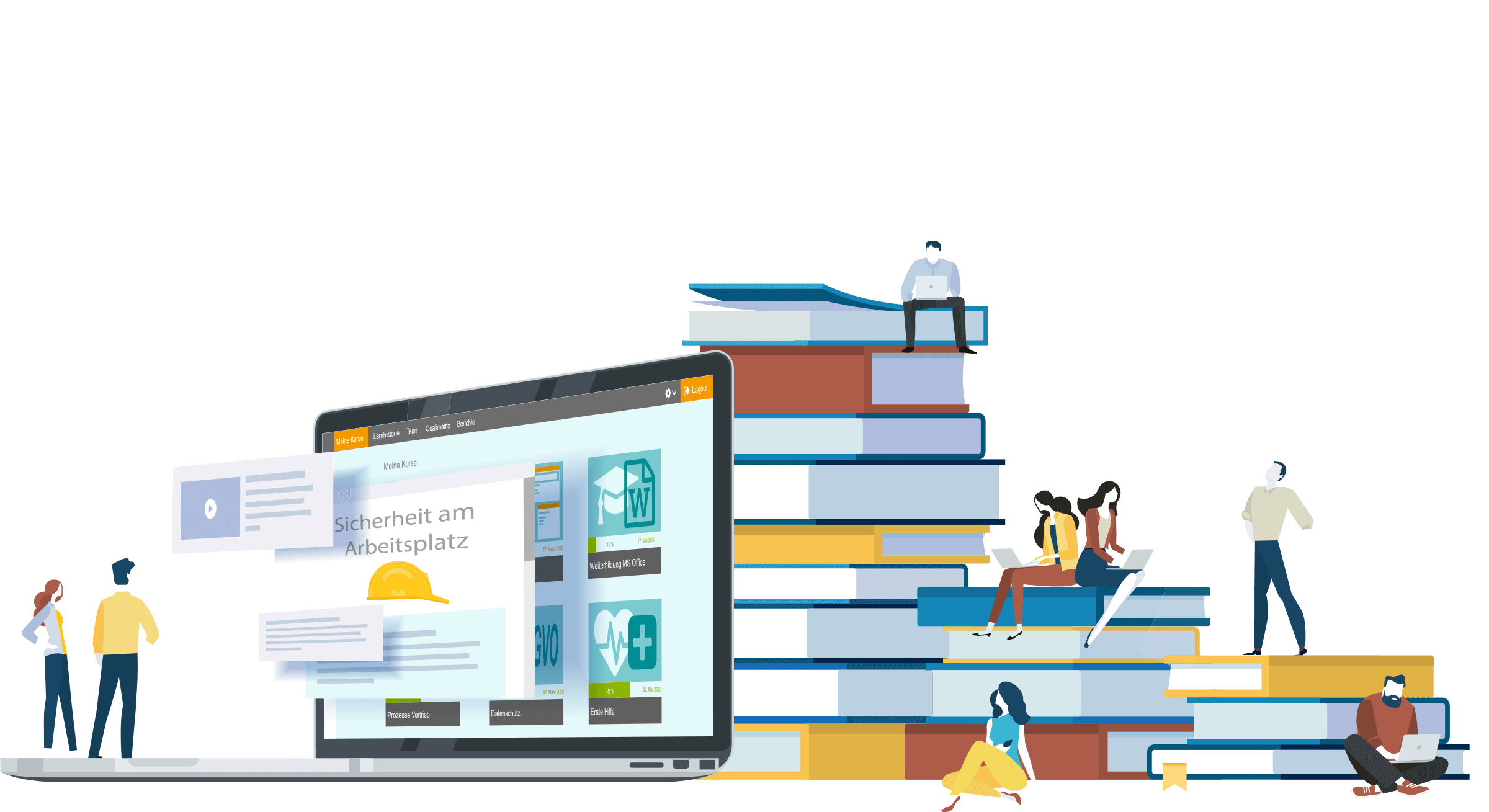 Our services for your success
That's what you get with sycat eLU
We advise you competently on all questions relating to the configuration, integration and potential of your learning management system.
Book standard training courses and instructions directly from the catalog or let us develop your individual learning content.
Maximum accessibility – maximum data protection. Certainly with our certified cloud solution according to ISO 27001.
We hold extensive introductory workshops and train those responsible and trainers. Online or presence.
We support you with the integration into the IT as well as with the smooth operation. Fast, competent, personal!
Learning management as part of the integrated management system. Integrate e-learning into your process landscape.
Communicate knowledge quickly and safely –
guarantee sustainable learning success –
increase long-term efficiency in the company