The optimal solution for every application
Employee training in practice
A company's greatest asset is its employees. The ability to know the qualifications of the workforce and to improve them in a targeted manner is a core competence of modern corporate management.
Only a culture of continuous learning and central knowledge management gives these organizations the competitive advantage to be flexible even in times of major transformation, to be able to react quickly and decisively and to establish resilient processes.
Learning management with sycat eLU is therefore relevant in all parts of the company , in the HR department as well as in the HSE area, in further education as well as in compliance training, in management as well as at departmental and team level.
The practical flexibility of our learning management system is also reflected in the large number of industry-specific solutions that are implemented with sycat eLU . Whether employee training at non-profit organizations, external company briefings in the construction industry, briefings in the production area of heavy industry – sycat eLU always convinces!
Company-wide applicable and practical
sycat eLU for all business areas
Reach your employees with mandatory training and individual further training anywhere and anytime, even when working from home.
Set goals and let everyone learn in their own way where, when and how it fits best.
Carry out your mandatory instructions and HSE topics electronically or organize face-to-face events and blended learning with the seminar manager.
Of course with audit-proof proof.
Keep an eye on the competencies and skills of all employees with the qualification matrix.
Put together suitable teams and organize training and refresher measures in good time.
Train visitors verifiably about security-related topics on the company premises.
Directly on the stand display or kiosk system in the reception area and using a keycard or NFC chip system.
Complete external company or supplier briefings securely online and mobile.
Demonstrably instruct employees of other companies in multiple languages and directly on site, whether on the stand display, notebook or tablet.
Offer maximum service and deepen your customer loyalty.
Train your products online, hold workshops, establish upselling opportunities. Directly on your homepage!
Make all employees in the company aware of compliance and corporate responsibility issues.
Ensure a safe working environment, both internally and externally.
Make sure all distributors are up to date on briefings, goals and product updates.
In this way, you can always show your customers a uniform corporate image.
Continuously train your support staff and call centers to guarantee maximum service and customer satisfaction.
However, recurring topics can also be proactively offered as customer training courses on the website.
Significantly reduce sales training costs with mobile training sessions and flexible blended learning events.
Give your sales team customized goals and helpful feedback at any time.
Practical e-learning for all sectors of the economy
Industry solutions with sycat eLU
In terms of safety and quality, the rail transport and railway technology industry is subject to strict regulations. With sycat eLU , not only are employees digitally instructed, but a large sharing platform is established in which railway-specific learning content can be shared and exchanged within participating partners.
Mehr erfahren
Stricter regulations apply in hospitals with good reason in terms of compliance, data protection and quality management. Every disregard of a rule sometimes has an enormous impact on the well-being of patients, for example. These topics must be trained appropriately and verifiably, especially external companies such as cleaning staff. The use of a central digital learning management system, which is closely linked to the processes and quality management, is essential in the health sector.
Instructions for external employees and instructions from external companies are a major topic in the construction industry. All safety regulations must be verifiably instructed, despite language barriers and the robust environment on the construction site. With multilingual blended learning, mobile instruction with sycat eLU is legally secure.
Fragile supply chains, lockdowns and working from home, scarcity of resources, the partial return to national standards instead of ISO and EN – there is no question that the industry is facing enormous challenges. Not only digitization, now also disruption. Only those who are able to process new information quickly, adapt processes in an agile manner and reach all employees everywhere in order to train them in the changes can survive.
Processes, knowledge, employees in one central information management system – that's sycat!
In the social area, employees, volunteers and volunteers are usually very widely distributed, often even across national borders and continents. A digital learning platform is worth its weight in gold to conduct training courses or to teach specifications and standards.
In this way, all employees can be sure to reach each other anywhere and anytime. With team management, chats, forums, wikis as well as self-registration and decentralized seminar management, the organization always stays close to people and close together.
The financial industry is strongly bound by extensive compliance rules, data protection and various legal provisions on client protection, and that at national, European and international level. Uniform training on the current rules across the group is the key to protecting the company from sometimes drastic penalties. With sycat eLU you train compliance for all employees in a binding, verifiable and secure manner.
How great is the potential for digital learning in your company? Do a quick analysis here!
Further training, customer training, visitor instruction – what possibilities and opportunities does e-learning open up in your company? Find out here in a short and free online analysis!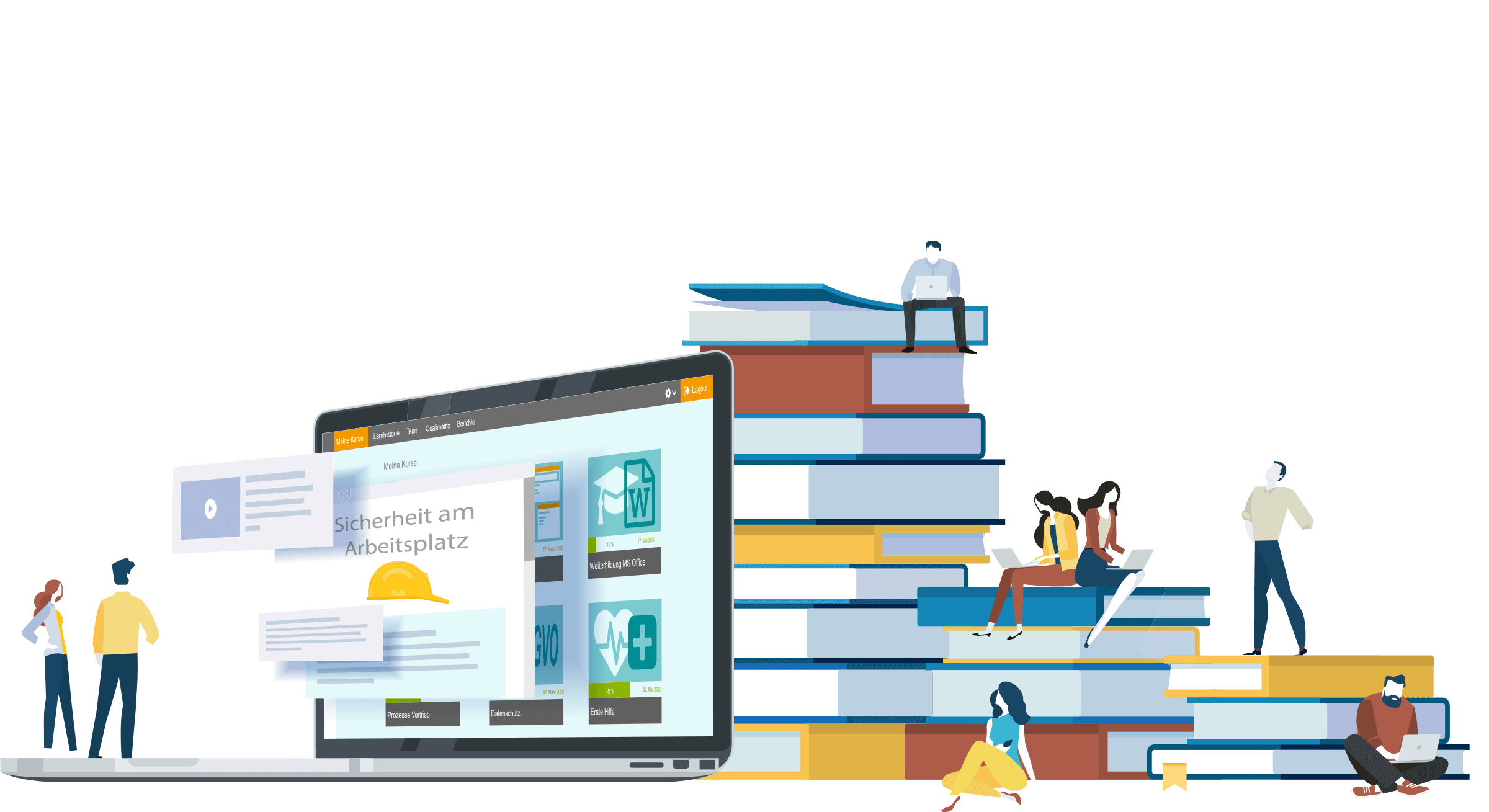 Our services for your success
That's what you get with sycat eLU
We advise you competently on all questions relating to the configuration, integration and potential of your learning management system.
Book standard training courses and instructions directly from the catalog or let us develop your individual learning content.
Maximum accessibility – maximum data protection. Certainly with our certified cloud solution according to ISO 27001.
We hold extensive introductory workshops and train those responsible and trainers. Online or presence.
We support you with the integration into the IT as well as with the smooth operation. Fast, competent, personal!
Learning management as part of the integrated management system. Integrate e-learning into your process landscape.
Communicate knowledge quickly and safely –
guarantee sustainable learning success –
increase long-term efficiency in the company